TIPS FOR SELECTING VENDORS
Here is a list of the most common types of services you will need after your home has been burned. Many of these services will contact you. It's important to know what each company offers and if their services are covered by Insurance or if they are charging YOU a fee.
Contact us for a list of local vendors in your area with 5 star ratings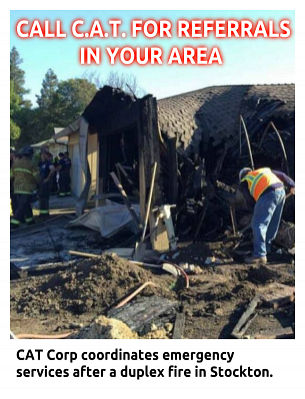 Your insurance company may advise you not to talk to any unapproved insurance vendors. Your insurance carrier is not in the business to give away money, so it is in their best interest to have their approved vendors mitigate your loss. In order to do so, the preferred vendor may try to salvage different contents and parts of the structure that should NOT be salvaged. It is up to you as the owner to protect your investment and educate yourself on your rights as the insured. As mentioned earlier just because a company might be a preferred vendor of the carrier does not mean that they are adequately capable to evaluate your loss; nor that you are required to use them. Be sure to check references and reviews before you agree to let any vendor into your home to assist you, including vendors referred to you from your carrier. You as the insured have the right to deny any vendor into your home that is not 5 stars rated or if they have even one complaint.

As already mentioned, most services will be covered by your insurance carrier; Note, if you select to work with a Public Adjuster their fee is not covered by your Insurance carrier.

Restoration companies are usually among the first responders following a house fire. Their job is to clean up the mess and to preserve and protect your home from more damage. They also assist with your contents/inventory list. It is important to ask questions and understand how your contents will be cleaned. For example:

• How will my clothing be cleaned?
• How will my electronics be cleaned?

Be sure to check with the manufacturer of your electronics before agreeing to have them cleaned. Warranties may not be offered after your electronics have been exposed to heat, smoke etc. from a fire. In that case you would elect to have your electronics replaced.

General Contractors:
When deciding who will rebuild your home it is important to select a contractor that is familiar with fire damage and how to work with your Insurance company. You may know a general contractor or have one in your family, however it is important that your contractor understand insurance scopes (Xactimate) and how to identify hidden fire damage. It is best not select a general contractor just because they are a friend or family. They may not be equipped or experienced to restore a property to the level the city you live in will require.

If you elect to select your own vendors-who will be working for you, and not use the Insurance Preferred carriers, you will want to make your selection soon after the fire. For the majority of people whom suffer a house fire it will be their first time. The stress that comes with the loss of a home can make the selection process seem more stressful then it needs to be, making it easier to default to insurance to make these decisions for you. By selecting your contractor immediately this allows the contractor to start working on their scope of repairs and reach agreements with the insurance carrier as to what needs to be repaired and how it needs to be repaired. You may think that you need to wait for your Insurance carrier to view the loss and prepare a scope of repairs before making this important selection, but remember your insurance claim representative is not a general contractor and therefore may not be capable of preparing a thorough scope. Your claim representative may also elect to bring a general contractor with them to assist them with preparing a scope. Remember it is up to YOU to make sure that you feel comfortable that the vendor/contractor is assisting your insurance carrier is capable of estimating damages in your home.

It's beneficial if the general contractor is familiar with the scope program Xactimate. This software is designed to prepare a scope in line item detail with the cost for each line item. Be sure that your contractor has the ability to do an analysis of the insurance's scope to catch any errors that the Insurance carrier may have made or discrepancies on how things should be prepared. Failing to do this you could result in potentially losing thousand of dollars.

Contact us for a list of vendors we trust. We have worked with these vendors in the past and trust you will have a good experience with them.

Pros and Cons of using
Preferred Vendors
PROS
1. The Insurance Company saves money, repair or replace the property for less and improve loss ratios.

2. The Insured gains piece of mind knowing that the insurance company has already vetted the contractor, and knowing their insurance company will guarantee the work.

3. Vendors that participate in the Insurance Preferred Vendor Programs receive consistent work form the insurance company.

CONS
1. The Insurance carrier determines the scope of repair and replacement work, rather then the qualified contractor. Because the Insurers incentive is cost saving the scope of work is likely to be inappropriately narrow.

2. Preferred Vendors are more likely to accept the insurers scope of work even if the contractor disagrees because the contractor wants to continue to receive additional work from the insurer.

3. Insurance companies pay only the "prevailing competitive rate" as determined by the insurance company. This reduces or eliminates the margins necessary for contractors to make a profit. If the contractor is unable to make a profit they either go out of business or remove themselves from the preferred vendor list, creating high turnover of contractors on the Insurance Preferred Vendor lists.

4. Insurers determine the price of the work and may apply a different Xactimate pricing list, which is lower than Xactimate pricing lists used by a non-insurance preferred vendor. This also eliminates profit margins and provides incentive for the contractor to complete less then quality work and use less then quality materials in order to avoid losing money on the project.